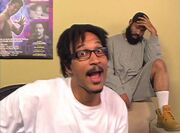 Key & Peele have also created a YouTube commentary of their episodes under their alter-egos Vandaveon Huggins and Mike Taylor. [1] Vandaveon and Mike analyze an episode, and suggest that low brow humor would make it funnier. These videos were also added to On Demand offerings of Key & Peele episodes. The content of the commentary is unrated.On Demand listing [2]
Key and Peele also appeared as them in a ad for the release for the XBOX One.
References
Edit
Ad blocker interference detected!
Wikia is a free-to-use site that makes money from advertising. We have a modified experience for viewers using ad blockers

Wikia is not accessible if you've made further modifications. Remove the custom ad blocker rule(s) and the page will load as expected.