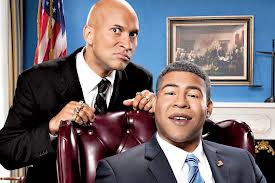 Obama and Luther is a recurring sketch in Key & Peele, and one of their most viewed sketches on YouTube.
People think that President Obama doesn't get mad, but he says that is not true and not to show any confusion, he hires an anger translator named Luther to speak out his anger for him about the 2012 election and debates.
Ad blocker interference detected!
Wikia is a free-to-use site that makes money from advertising. We have a modified experience for viewers using ad blockers

Wikia is not accessible if you've made further modifications. Remove the custom ad blocker rule(s) and the page will load as expected.