Home
Talk

0
12pages on
this wiki
Welcome to the Key & Peele Wiki
Welcome to the Key & Peele Wiki, an encyclopedia of all things presented in sketch comedy, Key & Peele, anyone can edit this encyclopedia, this site was started on February 17, 2012, created 17 days after the show premiered. This is a new wiki and may not be complete, please help by adding pages that are Key & Peele related, vandalism is not acceptable on this wiki and if admin sees it you will be blocked from editing and you edit will be removed. Currently there are 4 articles.
Recent episodes
Episode 3, aired on February 14, 2012 at 10:30 PM on Comedy Central

Two men yell cat calls at an oncoming woman, only to realize their mistake once the "woman" gets closer. In 1848, two slaves on the auction block become increasingly agitated as they are continually passed over from being bought. While on a date, a biracial man gets confused as to when to use his "black" side and when to use his "white" side in order to receive good service at a restaurant. In Nazi Germany, two Negroes wearing poorly applied whiteface undergo a series of "scientific" tests to prove they are not Negroes. Two hecklers who won't stop talking during a movie actually turn out to be giving an insightful technical criticism of the film. Just as two gangstas are about to execute a hit, one of them accidentally defecates in his pants.
Episode 2, aired on February 7, 2012 at 10:30 PM on Comedy Central

A street rapper loses a battle rap to President Obama. A doctor and a patient's son trade "Yo Momma" insults. A substitute helicopter traffic reporter gets more than he bargained for in his turbulent ride. Two women in a club fail to get good pictures of themselves as a gunman robs the place. Community theater actors portraying Martin Luther King, Jr. and Malcolm X try to curry the audience's favor. A 90's R&B singer expresses his true feelings to his male co-performer while performing on stage at a concert.
Upcoming episodes
Episode 4, airs on February 21, 2012 at 10:30 PM on Comedy Central
Episode 5, airs on February 28, 2012 at 10:30 PM on Comedy Central
Recent news
Featured article
Darryl is the character in Key & Peele that appeared in the first episode in season one.
In the episode, they talk about there wife's and call them bitch, they continue finding were they are they continue going different place, and in the end they go to space.
It was the first character to appear on the series.
Featured media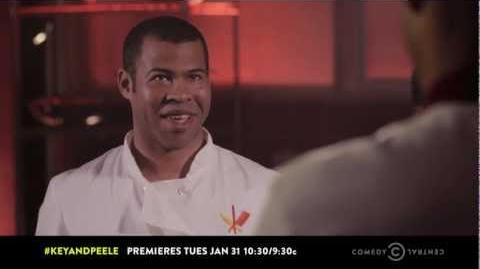 Latest activity