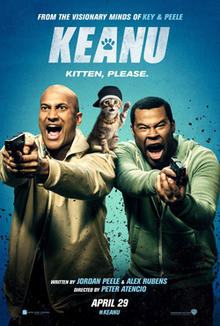 Keanu
is a American action comedy film directed by Peter Atencio and written by Jordan Peele and Alex Rubens. The film stars Peele, Keegan Michael Key, Method Man, Nia Long, and Will Forte. The film was released on April 29, 2016 by New Line Cinema Productions and was distributed by Warner Bros. Pictures.
After his girlfriend leaves him, Rell finds a small kitten on his doorstep and takes a immediate liking to it, and names it "Keanu". One night while Rell and his cousin, Clarence go out to see a movie, they come back to find Rell's apartment has been broken into and Keanu is nowhere to be found. The two find out that Kenau has been stolen by a gang of drug dealers as the two must pose as actual gangsters to retrieve Keanu.
Jordan Peele as Rell/Smoke Dresden
Keegan Michael Key as Clarence/Oil Dresden
Method Man as Cheddar
Tiffany Haddish as Hi-C
Will Forte as Hulka
Darrell Britt-Gibson as Trunk
Nia Long as Hannah
Jason Mitchell as Bud
Keanu Reeves as Keanu (voice)
Ad blocker interference detected!
Wikia is a free-to-use site that makes money from advertising. We have a modified experience for viewers using ad blockers

Wikia is not accessible if you've made further modifications. Remove the custom ad blocker rule(s) and the page will load as expected.